Perennial Plant Ideas for the Firewise Landscape
Are you looking for firewise landscape inspiration? Here are perennial plant ideas for multi-season interest! These are tried and true plant species that have performed well at the Idaho Firewise Garden and are recommended by our staffed horticulturists. All plants are hardy to approximately USDA Zone 4 unless otherwise indicated.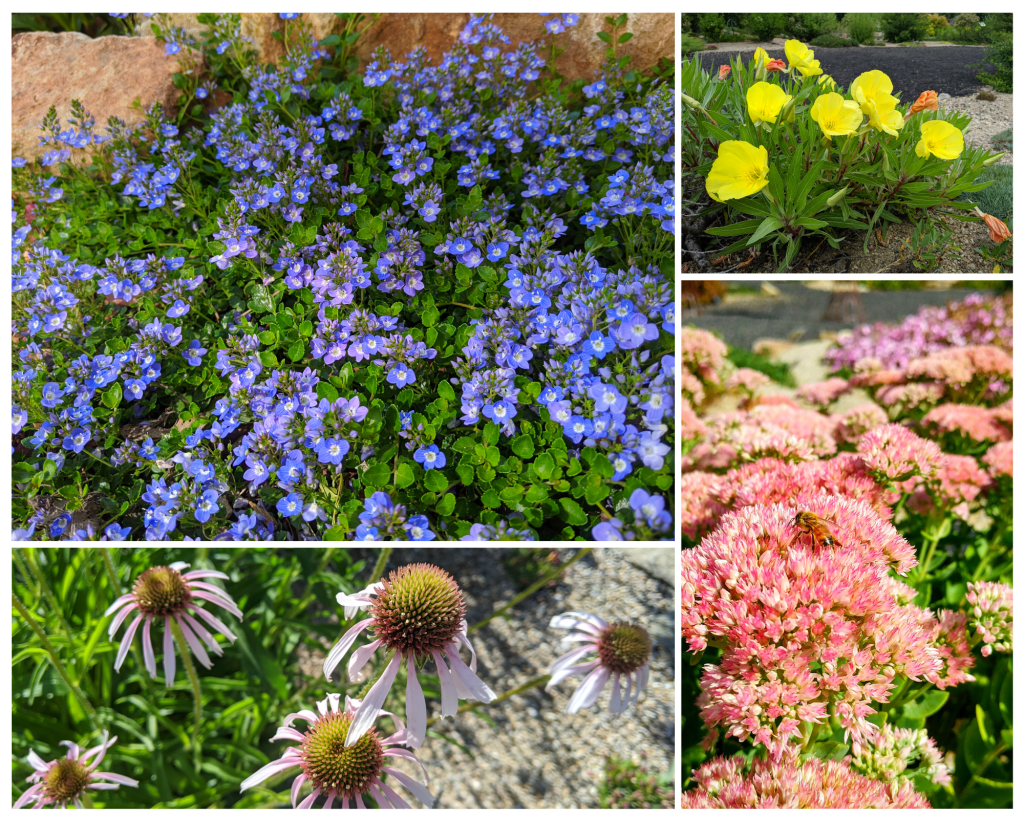 Combination A:
Turkish Veronica Veronica liwanensis
Evening Primrose Oenothera macrocarpa
Narrow-Leaved Coneflower Echinacea angustifolia
Stonecrop Hylotelephium 'Autumn Joy'
Combination B:
Rocky Mountain Penstemon Penstemon strictus
Pineleaf Penstemon Penstemon pinifolius
Sulphur Buckwheat Eriogonum umbellatum
Giant Flowered Soapwort Saponaria x lempergii 'Max Frei'
Combination C:
Ornamental Strawberry Fragaria x 'Lipstick'
Catmint Nepeta 'Walker's Low'
Daisy Fleabane Erigeron 'Darkest Of All' (sub: Erigeron speciosus)
Dwarf Goldenrod Solidago sphacelata 'Golden Fleece'
Combination D:
Globemallow Sphaeralcea munroana (sub: Sphaeralcea ambigua, USDA Zone 6)
Curlique Sage Artemisia versicolor 'Sea Foam'
Poppy Mallow Callirhoe involucrata
Blazing Star Liatris aspera (sub: Liatris ligulistylis)
Combination E:
Wild Indigo Baptisia 'Screamin' Yellow' (USDA Zone 6)
Speedwell Veronica longifolia Vernique® Shining Sea
Colorado Four O'clock Mirabilis multiflora
Coneflower Echinacea – so many great colors from the Sombrero® series!