Fires have been part of Idaho's landscape for centuries, but Idaho Firewise is relatively new. Idaho Firewise is a non-profit organization that was initiated in 2008 following a statewide survey showing a need for wildfire education. Since then, Idaho Firewise has grown and partnered with the national Firewise program.
The Idaho Firewise Board of Directors is a mixed representation of agencies, organizations, businesses, and individuals that have a vested interest in wildland fire education. The board meets 5 times a year, usually virtually as members are located throughout the state. All meeting agendas and minutes are available by request.
Achieving a Firewise Culture in Idaho.
Our Mission
Idaho Firewise is a non-profit organization that coordinates, supports, and promotes wildland fire education to broaden the understanding of wildfire's role in ecosystems, and equips and motivates those who live in or visit Idaho to reduce loss from wildfire.
Our Purpose
Provide a coordinated, consistent, interagency, and consensus-driven approach to wildland fire education in Idaho.

Define target audiences, messages, methods of delivery, and match audience needs with existing materials or develop new materials.

Develop resources and support for educational and other community-led activities across the state.

Establish and grow partnerships with private and public entities that have a stake in wildfire prevention and education.

Coordinate the development and delivery of key messages.

Facilitate information sharing across agencies and jurisdictional lines.

Inventory, catalog, and provide a web-based clearinghouse of existing fire education materials.
At Idaho Firewise, Inc., we commit to creating an inclusive organization and value the perspectives and lived experiences that each person brings to our mission. We value each staff person, board member, volunteer and donor, and together with our partners, recognize that access and equity is a right for every person in every community.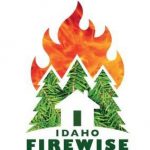 Ivy Dickinson, Executive Director
ivy@idahofirewise.org
phone/fax: 208-310-7472
toll free: 888-285-5889