Common Causes of Wildfires in Idaho
Everyone has heard Smokey Bear say "Only you can prevent forest fires", but what most people do not know is that you ACTUALLY CAN. Many are surprised to hear that the number one cause of wildfires in Idaho is people.
Common Cause of Wildfires in Idaho
Raising awareness is the first step toward wildfire prevention. Idaho Firewise works to raise awareness about the most frequent human causes of wildfires.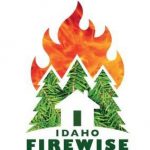 Ivy Dickinson, Executive Director
ivy@idahofirewise.org
phone/fax: 208-310-7472
toll free: 888-285-5889