Wildland fires caused by people is a common problem in Idaho. Many escaped fires are illegally started due to people violating burn restrictions enforced during high fire danger months.
This is important - anyone starting a fire may be responsible for that fire until it is out. If your fire gets away, you can be held responsible and liable for any property damages and for fire suppression costs. In order to avoid costly fines and citations, make sure you know where and when burning is allowed.
Burn permits
Burn permits are required under Idaho law for any burning outside city limits statewide (excluding campfires) from May 10 to October 20. Fire safety burn permits are free and can be applied or renewed online at the Idaho Burn Permits website.
Some cities and other jurisdictions - including local or county fire departments, Idaho Department of Environmental Quality (IDEQ), Tribal Reservations, and others - may have additional or alternate permit systems in place. If that's true for your burn site and type of burning, then you will be provided instructions on how to apply for a permit from those entities.
Fire Restrictions
Know before you go! If your vacation will take you outdoors, check the Idaho Fire Info website for the most up-to-date information on fire restrictions.
Burning can also be limited based on current fire restrictions. Check with your local fire department for other restrictions that may be in place at the time you want to burn.
Compliance with air quality regulations is required at the time of burning. You can check air quality conditions at the Idaho Department of Environmental Quality (IDEQ) Real-Time Air Monitoring webpage or contact the appropriate Tribe if you plan to burn within Reservation boundaries.
You can also go to IDEQ website for more information about the health impacts of burning, burn restrictions and bans, crop residue and residential burning, wood stoves and wildfires. Contact an IDEQ Regional office for local information.
Fire Incident Information
If you have questions about a specific fire or are making travel plans, the Incident Information System (Inciweb) is the best source for information.
The National Interagency Fire Center (NIFC) website also provides information, including a daily fire situation report.
Before you burn
Some types of burning may only be conducted on days designated by IDEQ as burn days. An acceptable burn day occurs when air quality is good and is expected to continue to be good, as indicated by pollutant levels. Burn approval decisions are based on air quality conditions; proximity to towns, schools, roads, hospitals, canyon rims, etc.; the order of burn requests received from applicants; and other relevant factors.
Know what is and is not OK to burn
OK to burn
Natural vegetation

Grass, leaves, needles

Garden waste

Shrub and tree trimmings

Stubble

Logging/thinning slash

Some household waste consisting of paper and cardboard if no residential trash pick-up service is available.
NOT OK to burn
Plastics

Tires and other rubber materials

Paint

Tar and petroleum products

Vehicles or materials from vehicles

Preservative treated lumber or timbers

Railroad ties

Insulated wire

Hazardous waste

Trade waste (commercial, industrial, or construction bi-products)

Pathogenic (disease causing) waste

Garbage from food preparation

Dead animals or animal waste

Asphalt
Burn Safely
Remember the steps you take before you strike that match make all the difference. There are simple precautions that you can take to prevent escaped fires.
Watch the weather. Avoid burning on windy, hot, and dry days. Wait to burn if: winds are over 8-mph, temperature is above 80 degrees, and thunderstorm activity is predicted.

Be prepared. Have enough people, water, and equipment/hand tools available to control the fire.
Dress appropriately. Wear long sleeves and pants, a hat, and leather gloves and boots. Use a bandanna over your month to protect your lungs.
Make a firebreak before you start.
When burning fields, ditch banks or fence lines it is always safest to ignite against the wind.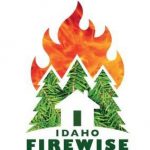 Ivy Dickinson, Executive Director
ivy@idahofirewise.org
phone/fax: 208-310-7472
toll free: 888-285-5889