Accessibility, Signage & Emergency Water Supplies
Wildland fire situations can be frightening, with billowing smoke and flying embers contributing to the chaos. Decrease your vulnerability by ensuring access routes are clearly marked and free of impeding vegetation and that wildland firefighters have access to emergency water supplies.
Access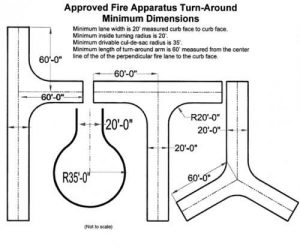 Understanding why access is important is simple – firefighters and their equipment need to get in and you need to get out.
Ensure access by:
Having two ways to access your property in the event that one route is threatened.

Establishing roads wide enough for two-way traffic or constructing turnouts for passing traffic; emergency vehicles need at least a 12-foot wide access with a vertical clearance of 15 feet to be able to access your property.

Providing alternate routes for firefighting equipment to access your property if your main access road is exceptionally steep (greater than 12 percent slope) or turns are excessively sharp.

Providing a minimum 50-feet turnaround radius in all cul de sacs.

Clearing vegetation at least 10-feet from along roads and driveways.

Determining if all access bridges can support at least 34,000 pounds and are appropriately signed; strong enough to support fire equipment and the water they carry.
Signage
Help emergency responders find you. Make sure your property can be located by:
Marking all access points with non-combustible, reflective materials with numbers and letters at least four inches high on a contrasting background.

Making sure all signs are visible from the road by clearing vegetation from around entry point so signs are not obscured.
Emergency water supplies
Water supplies that are available after the power goes out and are easy for firefighters to find and use may help save your home. Pools and ponds not only look great and provide recreational opportunities, but make excellent firebreaks, improve wildlife habitat, and are excellent sources of water.
Emergency power supplies. If you depend on a well for your water supply, consider purchasing a gas-powered generator to provide backup power to the pump in the event of losing electrical service.

Make sure hoses, sprinklers and/or irrigation equipment is well maintained, easily located, and accessible.

Use your well water wisely and concentrate irrigation efforts in the areas immediate surrounding your home.

Consider developing an alternate water supply - this can be a tank, pond, or even a swimming pool; a good rule-of-thumb is to have 2,500 gallons of water available for emergency backup.

Clearly mark back-up water supplies and provide access to fire trucks, which usually need at least 16-feet of clearance.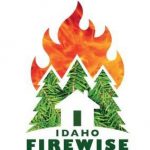 Ivy Dickinson, Executive Director
ivy@idahofirewise.org
phone/fax: 208-310-7472
toll free: 888-285-5889