"Embers drift from campfire and ignite a wildfire that incinerates thousands of acres."
"Man driving on a national forest road ignites tinder-dry grass with hot engine."
Headlines like these have become far too familiar in Idaho. A growing number of Idaho wildfires have a common, incriminating back story - people caused them. Nearly nine out of 10 wildfires nationwide are caused by humans and could have been prevented. In 2015 alone, 58,916 human-caused wildfires burned over 2 million acres of land.
What are wildfires?
Wildfires are any unwanted, unplanned fires that burn in Idaho's forests and rangelands. They're a powerful natural force that must be understood, and respected, in order for us to coexist.
In this section you will learn:
Fire Prevention
Raising awareness is the first step toward wildfire prevention.
The USDA Forest Service has been educating the public about fire prevention since 1944. In early 1950, a bear cub was found badly burned after a wildfire and was rescued by a team of firefighters. This cub, later to be called Smokey Bear, was the beginning of one of the most successful educational campaigns in U.S history. Smokey Bear continues to educate and entertain, millions of people across America each year, still spreading the message that "only you can prevent forest fires."
The American Forest Institute formed a national Keep America Green program in 1944. Celebrities like Bing Crosby, an avid outdoors-man and hunter, lent their names and images to the "Keep Green" effort.
Started in 1946, Keep Idaho Green (KIG) has been dedicated to educating the public about wildfire prevention. Through its partnerships with the Bureau of Land Management, USDA Forest Service, and the Idaho Department of Lands, KIG continues the campaign to reduce fires caused by human carelessness.
One of the main characters of the Keep Idaho Green program has been the Guberif. The Guberif (firebug spelled backwards) first appeared in Idaho in 1945. Since then, the Guberif has educated Idaho locals and visitors about fire prevention by showing people what NOT to do. You name the cause of a wildfire, and the Guberif has done it. He tosses his cigarettes on the ground, let's campfires get out of control, and uses illegal fireworks. And those are just a few of his bad habits.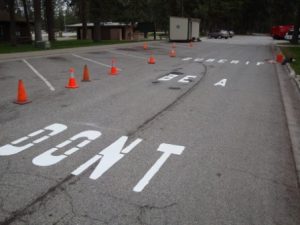 As part of the Keep Idaho Green campaign, the Idaho Department of Lands painted "Don't Be a Guberif" on highways, at rest stops and in state park parking lots. The Guberif also appeared in the media and on educational materials. His name alone has made him popular and very effective at raising awareness about fire dangers.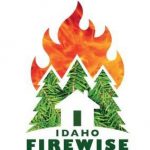 Ivy Dickinson, Executive Director
ivy@idahofirewise.org
phone/fax: 208-310-7472
toll free: 888-285-5889