Though the threat of wildfire is an unpredictable danger that can strike at any time, the wildfire that happens in your community does not have to have devastating effects.
The national Firewise USA™ Program is intended to serve as a resource for city/county/state/federal agencies, tribes, organizations, fire departments, and communities across the U.S. who work toward a common goal to reduce loss of lives, property, and resources to wildland fire.
The Firewise USA™ Communities approach emphasizes community/neighborhood responsibility in planning the design of a safe community, as well as an effective emergency response and individual responsibility for safer home construction and design, landscaping and maintenance.
Firewise USA™ Communities in Idaho vary in size, topography, population, and fire threats, but they have one thing in common… they are concerned enough about wildfire to work together to protect their community. Idaho currently has 28 nationally recognized Firewise USA™ Communities located throughout the state. Wilderness Ranch, Boise, ID is one of a handful of all of the Firewise USA™ Communities across the nation that have been in good standing since the program began.
You can go to the Firewise USA™ Communities interactive map to see the location of all of the Firewise USA™ Communities in the nation.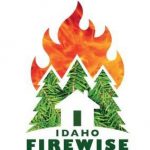 Ivy Dickinson, Executive Director
ivy@idahofirewise.org
phone/fax: 208-310-7472
toll free: 888-285-5889